ABOUT STRAGILITY
Stragility, LLC is a NYS Certified Women Business Enterprise (WBE) that provides strategic business planning and execution services. We work with forward-thinking leaders to achieve traction in their business by focusing on strategy execution, market research, and talent solutions. In short, we help you and your team elevate your game.
INFLUENCE. ENERGIZE. TRANSFORM.
Every day, we make an impact by transforming the way companies manage and grow their businesses, engage their teams and customers, and competitively position themselves in their industry.
We do this by working with clients to develop goals and achieve them. We empower them with simplified and focused tools and processes to make their vision attainable, and we navigate the unique terrain of their industry, confidently leading them to success.
As trusted advisors, we diligently help clients do what they do best, only better.
To reshape the course of strategic business planning through guidance, forward-thinking, and accountability.
We empower leaders to take their team and organization to the next level of achievement through thoughtful and strategic action.
Stragility is the essence of differentiation. It means that our efforts are rooted in strategy and execution, while also honing our unique ability to be agile when opportunities or challenges arise. With us, you'll simplify the direction, break through the barriers, and align yourself towards achieving your business goals.
Continually Elevating The Game
Whether it is a client we are serving or in our own personal lives, we are consistently working to improve, to elevate our game, and to help clients take it to the next level.
Collective Brain Power
We recognize the power of multiple perspectives and the integration of diverse skill sets – together we are better.
A Focused Direction
We understand there are numerous distractions, and that's why we focus on what will move the dial and make the difference in advancing our clients' mission.
We Embrace Humor
Our lack of somberness need not be confused with a lack of seriousness. We get things done while simultaneously embracing laughter and taking joy in the process.
We're Poised and Polished
We bring the calm, cool, and collected to every situation, because living in the solution, not the problem, is the way we progress.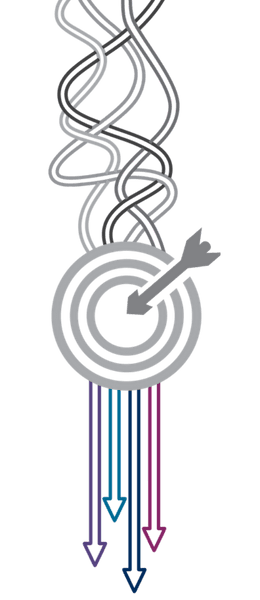 Meet Our Team
Our culture is centered around bringing together influential and strategic leaders who are committed to providing exceptional experiences and successful outcomes for our clients. While our team has over 60 years of combined professional experience with highly sought-after niche areas of expertise, it is our thoughtfulness, dynamic presence, and an authentic drive that sets us apart.

Our firm has been great at idea generation, but weak on overall execution. Stragility helped us focus in on fewer priorities and streamline meetings to make sure that we are moving towards the goal line. Stragility helped us eliminate distractions, get right to the heart of an issue and provide simplified and strategic solutions. Stragility has become a key partner in our firm's progress! Oh, and by the way, I love working with Catharine!
It has been my pleasure to work with Stragility, LLC for several years now. Catharine and her team do a great job of organizing the thoughts and direction of a team into a manageable set of goals then work with the team to develop a plan of attack. They develop an accountability structure and implementation process to keep the team on task and roll up their sleeves to help in any situation when the team gets stuck. Catharine is an absolute producer! As though that isn't enough she brings a level of professionalism and sophistication to the mission which helps keep the team focused and maintaining a mindset of success and winning. The person does not exist that could out work or out energize her so she inevitably elevates the game of any team she works with.
Working with Stragility, LLC has been enlightening and inspiring. Catharine is brilliant at working with clients to develop processes and procedures to make businesses run more effectively and efficiently. Since working with her, I've discovered ways to improve my operations, motivate my team and generate greater profits. Catharine is organized and thorough, encouraging and motivating. She consistently goes above and beyond, working to improve my business even when we're not together. My experience has been nothing short of amazing and I'm so glad I partnered with Stragility to take my practice to the next level.